Running an industrial manufacturing company is quite difficult. You surely have a lot of machines and equipment for your daily operations. Of course, you also need ample space for your equipment and employees as well as operators. Therefore, when it comes to maintaining the cleanliness of the workplace, then the cleaners will surely need ample time to finish the job. This task may even take longer, if the people in-charged are not well versed and familiar with the setting. Keep in mind that the safety and security of the equipment must be considered because it will be used again.
You should know that everything in this facility are machines and these are all delicate. Well, if the cleaners would be very tactless, then they may do something that may lead to malfunctions. When this happens, the operation of the industrial firm may be affected. This is an incident that the cleaners must prevent from happening to protect their credibility. However, if the maintenance personnel are not trained to handle the cleaning job with this kind of environment, then such errors will likely happen.
As an owner of an industrial firm, you would not surely want to delay the operations. Of course, this will greatly affect your relationship with the clients. That's why, if you would like to minimize the occurrence of such incidents under your management, then you better outsource industrial maintenance services in your area. Now, before hiring one, here are a few factors, which you may consider.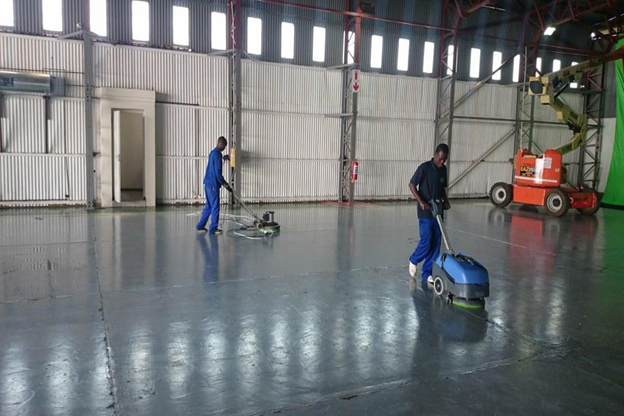 The Pros
Instead of checking on the work of the cleaners and monitoring their performance, you can just focus on your priorities as the owner or manager of the industrial firm. You should know that when you hire cleaners, they will send you professionals. Therefore, you have nothing to worry.
Due to their expertise, the tasks will be accomplished fast with a minimal to zero error. Actually, you are lucky, if you can find such individuals with such expertise. Anyway, check this sample inspection checklist at https://www.ccohs.ca/oshanswers/hsprograms/list_mft.html to help you hire the right one.
I guess, this is a good news because everything is clean and employees will experience the best working environment. Through the high quality of their performance, you cannot say that your money is wasted. This will surely be the beginning of a good relationship between your company and the cleaning service firm.
The Cons
However, you should also consider the downside of hiring such maintenance services for your industrial manufacturing facility. Keep in mind that these people will only come when they are needed. They will only function, according to what they are asked to. It means that they are not available any time of the day.
It is also possible that some of the cleaners are not familiar with your workplace. Therefore, you have to make sure that you will be provided with people, who knows your field. Through this way, they could be very helpful and functional as well.
Right Time to Outsource
When you know that the cleaning tasks in the company is getting too much and time-consuming, then I guess, you can ask for help and that is from accredited and certified by organizations like ISSA – read more about the standards. Some of you may already have janitorial personnel in your firm. Now, if they cannot finish their job because the workload is too heavy, then outsourcing could be considered.
I supposed, you know that your facility is filled with machines, right? Again, these are very important for the daily operations. If the cleanliness of the working environment will not be maintained and if these malfunctions because of unfamiliarity with it, then everybody will suffer. As owners and managers, it is your responsibility to make sure that the company will run as smooth as possible. Therefore, be wise in choosing who will be cleaning the space.
Now, to continue running the company in a normal situation, then think of outsourcing as a solution to financial issues. If the machines are not functioning and if the place is not kept clean, then the whole operation may suffer. In the end, your current clients may back-out and may lay off employees to produce enough funds in maintaining the firm. To prevent this incident, depend on the expertise of cleaners, whom you will just pay when they are called.